The tag release information from the 2017-18 season has been processed and the results have been presented to the Highly Migratory Species Working Group chaired by Fisheries New Zealand.
Thanks to all the New Zealand Sport Fishing Council club staff and records officers for getting this information in on time. The table below shows the number of billfish tagged by species and fishing year over the past 10 years.
The number of striped marlin tagged in 2017-18 was below average. The number of blue marlin (68), shortbill spearfish (22) and swordfish (50) tagged in 2017-18 were above average. There were also three striped marlin and a swordfish recaptured in 2017-18. (Table 1).

These tallies do not include fish tagged with New Zealand tags by vessels travelling outside the 200 nautical mile Exclusive Economic Zone.
Most notable of these are the large numbers of striped marlin tagged mainly in Australian waters on the Wanganella Banks, by long-range New Zealand vessels.
Data from the annual catch tallies in New Zealand Sport Fishing Council yearbooks shows that since 1993-94 an average of 892 striped marlin were recorded as tagged per year, and an average of 632 landed per year.
Overall, that is a tagging percentage of 59%.
In good years the number of marlin tagged can far exceed the number landed, as in 1999 and 2016. (Figure 1).
While clubs do weigh and record fish for nonmembers, there will be a number of landed fish not recorded and a lesser number of tagged fish that are not included in club records. Over the last 9 years the tagging rate has declined (Figure 1).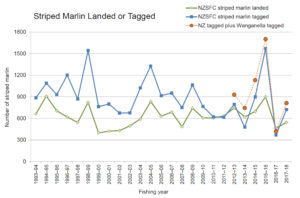 In part, this decline is due to a structural change in the recreational sport fishery in northern New Zealand.
The number of large long-range charter boats which typically record all their catch has declined. The number of well-appointed trailer boats targeting pelagic gamefish has increased.
These can launch at a wide variety of locations and are less likely to be affiliated to a club than owners of vessels moored at one port.
Tag and release has important conservation and research goals that are supported by the New Zealand Sport Fishing Council.
For many years, placing a tag has been the definition of 'catch' for fish that are released. Tagging has also been a useful means to collect information on the capture. The introduction of fishing practices from overseas may see more billfish released without tags and a reporting system for untagged fish needs to be developed to record catch information.
2017 was a relatively poor year for striped marlin even though warm sea temperatures saw a number of species range further south than usual. There were patches of fish available at times, notably in March and April off Ocean Beach, Whangarei, where numerous marlin were seen feeding on schools of bait fish.
East Northland tends to attract most striped marlin fishing effort and report more tagged fish than other regions.
Fishing success in the Three Kings area can be quite variable. 2017 and 2018 were relatively poor years at the Kings and in the Bay of  lenty (Figure 2). Waihau Bay did have good water and good numbers of billfish tagged and released in 2018.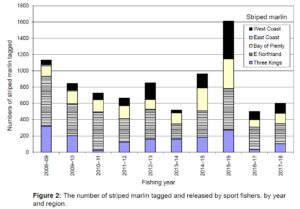 Tag recaptures
A striped marlin tagged off New Plymouth in March 2016 was recaptured two years later off Raglan. This fish had a steel anchored tag and was about 110 kg on release and weighed 122 kg on recapture.
A swordfish tagged in April 2016 in the Bay of Plenty was recaptured in mid-January 2018 by a tuna longliner in the outer Bay of Plenty. It was estimated to weigh 100 kg on release and 115 kg when it was recaptured.
Typically, swordfish and marlin breed in subtropical waters in spring or early summer. Tagging shows that some of these fish return to New Zealand in subsequent years.
A striped marlin tagged at the Wanganella Banks was recaptured 150 nautical miles west of New Caledonia on 20 June 2018 by a local longline boat. This fish was released on 30 March 2018 from the vessel Bwana II and estimated at 50 kg. Therefore, it had travelled 700 nautical miles NNE in 82 days.
Three mako sharks were recaptured. All were tagged in the first three months of 2017. All were caught six to nine months later in other countries' waters. A 50 kg mako tagged off Kawhia was recaptured in August by a longliner from Noumea and then released alive with the tag intact.
A 35 kg mako tagged off Whangarei Heads was recaptured in Tongan waters in October 2017 after 272 days at liberty.
A small mako free tagged (without being hooked) off Tangimoana was caught by a recreational fisher in Bass Strait, Australia, 284 days after it was released. This fish was retagged and released.
Reporting recaptures
If you recapture a fish with a New Zealand tag in it you can enter it on this website. Please provide the same information you would put on a release card and include a postal address and shirt size for the tagging reward.
Change of Address
The Fisheries division of the Ministry for Primary Industries has changed its name and moved to a new address at the MPI campus on Maurice Wilson Avenue, near Auckland Airport. If you are posting in the tag and information please note the new postal address for tag cards and recapture information:
Gamefish Tagging
Fisheries New Zealand
PO Box 53030
Auckland 2150
Mail to the old Auckland postal address will be redirected, but only for a limited time.